Color symbolism. my first recollection of this was from reading "The Great Gatsby".  I fell in love with reading and personification was next.  Once again I was in a meeting and someone described their emotions and used …. colors!  Green ~ one eyed monster for jealousy.  What could I expand that to include?NOTE:  ( I started this as article on color, but love the idea and will expand to include color symbolism in recovery).
From my college days, I remembered Plutchik's wheel of emotions.. I also recall Maslow's Hierarchy of Needs, and even Stages of Grief.. all had visual images  and stunning colors.  In my quest for mindfullness, I came across an article on coloring Mandalas for meditation.  Mandalas are colored circles in sanskrit.
https://www.verywell.com/coloring-mandalas-as-a-meditation-technique-89818   
Then I came across a great site that asked.. what is your favorite color?  Don't over think.. quick.. one or two?
To discover your personality color, ask yourself:  what is my favorite color?
Don't think about it, be spontaneous with your answer; accept the first color that comes into your mind and don't analyze your choice.
It is this instinctual choice of a color that tells you a lot about yourself, how you function and how others see you.
It is the means to understanding your behavior and your character traits as well as your physical, mental, emotional and spiritual states.
It reflects the way you operate in the world, your strengths and weaknesses, your vulnerabilities, your deepest needs and your challenges at that time in your life.
Mine is PURPLE: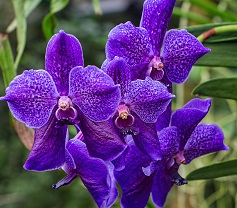 If purple or violet is your favorite color, you have a deep need for emotional security and to create order and perfection in all areas of your life, including your spiritual life. You also have a deep need to initiate and participate in humanitarian projects, helping others in need.
For more about the purple personality…..
http://www.empower-yourself-with-color-psychology.com/personality-color.html